BOL on
BRAC
ISLAND
Three visits to Bol in 1934, 1960 and in September of 2002
The first visit in 1934
Some 70 years ago my family of four visited BOL on ISLAND BRAC (read: Brach) for the first time. I remember that we've travelled by train in a sleeping car direct from our hometown Osijek via Zagreb to Split. Split is a large town with an important harbour on Central Adriatic. The travel lasted whole night so we arrived to Split by mid morning of the next day. The railway station is next to the harbour itself so after disembarking father found a porter with a trolley for our luggage as we had to walk over to a nearby hotel. We stayed in the hotel "Bacvice" that located next to the gravel beach of the same name. At that time this hotel was the only reasonably good hotel where we stayed for two nights.
Early on the next morning the family embarked on a steamer that serviced all harbours on Brac Island. I learned soon that we shouldn't stay on the stern becaus of black clouds with dirty particles coming out of steamer's smokestack. One used brown coal of low burning quality for steam engines at the times in 1930s only. The sea voyage lasted several hours as the ship tyed up at Supetar harbour at Island's north first and then at Milna long bay at west of Brac. We reached harbour of Bol amid Island's south coast at last where we disembarked well after the lunch time. I remember mother had served us sandwiches and large peaches she bought on the marked in Split. We have had two rooms reserved in the only hotel in Bol that was the "Hotel Kastil" (Castle). From our rooms we have had a straight view onto the harbour below the hotel that was located at the centre of Bol's community too. The same "Hotel Kastil" still exists although it was splendidly renovated and considerably enlarged including a pleasant restaurant next the esplanade now.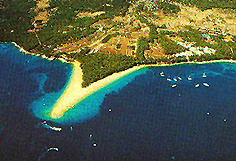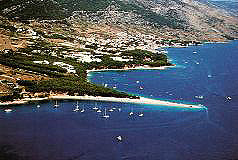 Left aerial view of the Golden Cape northward and at right eastward (from Tourist Prospectus)
Here are a few memories of Bol from my childhood. One of them is the long and tedious walk from the hotel to the beach at Zlatni Rat (Golden Cape) only in part through a shadowed alley of young pine trees. Sometimes father found a fisherman who would take us in his two-oar boat on long trip to the Cape. We had to walk back to the hotel always furtunately with almost empty picnic baskets though. On another occasion father as a passionate walker choose the long and steep pathway up the Vidova Gora (St. Vitas Mountain). I've accompanied him on this trip ridding a donkey all the way up and down this rather tedious path. We stopped at a hermit's dwelling where the old man showed us some ship models he had constructed in bottles. One other day father took me to the Dominican Monastery explaining where sons go for education if they are disobedient and do not learn well. Was this to be a warning to me? Dominicans were known as excellent educators and their students were accomodated in their own boarding House throughout the whole school year. Now Dominicans do not teach students anymore but they do provide boarding facilities for visitors of various seminars held in their House.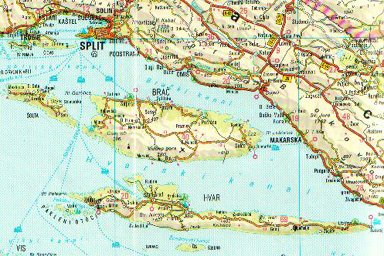 A cut out from a General map showing the location of Island of Brac (read: Brach)
Interlude No.1 about
ISLAND

OF

BRAC
(read: Brach)
BRAC is the largest of
Central
Dalmatian
Islands
and the third largest one in the
Adriatic
and has an area of 394,41km˛. To the North the wide BRACKI KANAL (Channel of Brac) separates it from the Mainland. The channel of SPLITSKA VRATA (
Split
's Entryway) is to the west of Brac and HVARSKI KANAL (Channel of Hvar) stretches out along its south coastline. Brac is a typical limestone formation with a steep northern coastline with more gentle slopes at its southern side. The higher island's regions have typical karsts' forms such as cracks, cavities, funnel-shaped holes, ravines and wider valleys at higher up levels only. The annual precipitations vary between 800mm to 1.450mm with rains mostly during winter months. Dominant winds are JUGO (Southerner) and BURA (Northerner) whereas MAESTRAL is a more agreeable westerly wind blowing during hot summer days.
On the island's surface there are no open flowing watercourses and there are no fresh water springs except at the
village
of
Bol.
The inhabitants used to accumulate rain waters on levelled slightly sloped flat surfaces and conserve it in house's own cisterns. In recent years Brac gets the fresh water from the Mainland by a pipeline submerged and placed on the sea floor. The
Island
of
Hvar
gets its fresh water supply from the same pipeline too.
Some larger zones of Black and
Aleppo
pines are scattered at island's higher regions at 400m ASL as well as at some settlements on coastal stretches. The island's flora consists mainly of dense undergrowth, low shrubs, bushes or thorny hedging plants on rocky surfaces. The sheep husbandry predominates here next to the sea fishing industry. Agriculture products are olives (for oil), grapes (vine) and other fruits particularly almonds and cherries. The sheltered bays have sandy or beaches of fine sized gravel but there are also many wild stone beaches where everybody to enjoy swimming in crystal blue
sea
of
Adria
.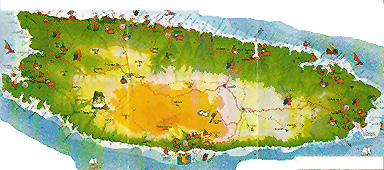 A detailed map of
Brac
Island
showing important places and roads (from Tourist map)
Since the Neolithic times Brac was continually inhabited and so all the way through the Bronze and Iron Ages. Brac first permanent inhabitants were the Illyrians and island's ancient name BRATTIA probably derives from Illyrian "brentos" as for a deer. The Romans left significant cultural traces in island's interior as well as along its coastal stretches. The limestone quarry at Skrip (Brac's marble) is still being exploited and the stone from it was used for the construction of Diocletian's palace in
Split
too. Subsequently Byzantine ruled over the island until the Neretvian tribe occupied the
Island
in 9th century to link up with the
Croatian
Kingdom
later. During following times inhabitants had to move up to higher up grounds at the interior because of constant danger and raids by sea pirates. The settlements like Nerezisce, Humac, Skrip, Gradac etc. became their safe havens on
Island
's highlands. The Clan of Omis from Mainland took hold of Brac that was Split metropolitan area by mid of 13th century.
The Kings of Hungarian-Croatian and of Bosnian states ruled over the island during the 14th century until the
Serenissima
alias
State
of
Venetia
seized it.
Venetia
had confirmed
Island
's old privileges so some new settlements developed under its sovereignty on the coast like Sutivan or Povja as from 1420 to 1797. The old settlements in the interior lost their importance as residents moved down to the coast gradually. After
Venetia
's decline around 1797 it was the Austro-Hungarian Monarchy that stepped in 1806 by taking over the
Island
. For a short while Brac was Russian fleet's basis until Napoleon established the French authority there that didn't last for too long. Afterwards Monarchy took over the full control in the
Adriatic Sea
again that ended permanently with the end of
World
War
I.
in 1918. Afterwards
Brac
Island
came under the sovereignty of the
Kingdom
of
Yugoslavia
lasting until mid of 1941. Partisans clashed sporadically with Italian and German occupation forces during the World War II. Brac was liberated by Tito's Yugoslav People Army in September 1944.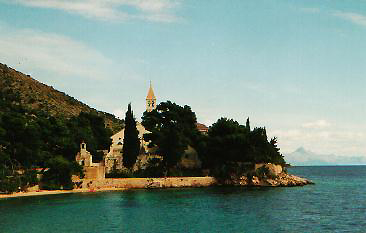 View at the Dominican Monastery with a beach in front left and Mainland in background
At present there are 22 inhibited towns and villages on Brac. The most important ones are Supetar, Splitska, Postira, Povja, Selca, Sumartin, Bol, Milna, Sutivan, Sumartin and others. These are of particular interests or present special attractions to the visiting tourists.
* * * * *
The second visit in 1960
My second visit to Bol was in summer 1960 when my family spent a 2-week holiday there. Before that in fall of 1959 we moved into our own flat of 52 m˛ though it was small and not too comfortable. For the first time we could live within on our own "four walls" since our marriage in 1951. Our daughter Vesna (6) got a new companion that was our first dog named "Lucky", a Cocker Spaniel. Lucky was in his "teens" and had a long fur of black/grey/white spotted colour. Three of us plus Lucky shared one compartment in a sleeping railway wagon from
Zagreb
to
Split
. At those days it was quite unusual that somebody travels by train taking a dog with. One needed a special permission for a dog and to be lucky having understanding fellow passengers in a railway compartment during the voyage. Early next morning we disembarked at Split Railway Station that was there next to the harbour as 26 years ago.
We had to choose that the arrival to
Split
coincides with ship's departure to Brac. It was a steam ship from that smokestack wafted black clouds with dirty particles again. We found a sheltered place at the foredeck where we had our breakfast enjoying a pleasant breeze and the sight of a blue sea everywhre. We had to keepon leach a rather excited Lucky to control his movement on the ship deck. We got the accommodation in a rather venerable looking "Hotel
Kastil" then. From our room we'd overlook the harbour's wharf and the esplanade in front below.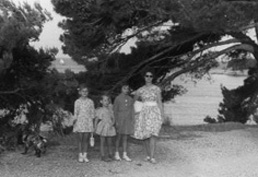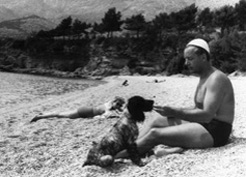 Left a group stopped on the way to Golden Cape and right the author with Lucky at the beach
We had walked the same pathway to Golden Cape beach though the Aleppo pine alley provided more shade now. The trees grew larger during the past 26 years since my first visit to Bol in early 1934. We have had problems with Lucky swimming and rushing around the beach as some visitors grumbled about a dog bathing at place designated to people only. Often we had to find a place where visitors were more considerable or we found a flat rocky beach for ourselves only. Lucky was a very happy young dog those days enjoying immensely the swimming and long walks too. The climate and a good appetite made Lucky to grow fast reaching the height of a Springer Spaniel after his holidays on the Adriatic. By summer of 1961 we got rather busy making preparations for our departure to the Sudan. We had to give Lucky away to a new master who was a dedicate hunter near Cakovec at Croatia's north where Lucky found the proper domain for a hunting dog he was.
Interlude No. 2 about
BOL ON BRAC ISLAND
BOL is the oldest settlement on Brac on its south coast sheltered below a mountain range of BOLSKA KRUNA (Crown of Bol). Thus Bol is sited at the foot of VIDOVA GORA (St. Vitas Mountain) that peak is at +778m ASL and the highest of all Adriatic islands. Next to is DRAŽEVA HILL (+627m ASL) with the Illyrian hill-fort of KOŠTILO at +600m ASL.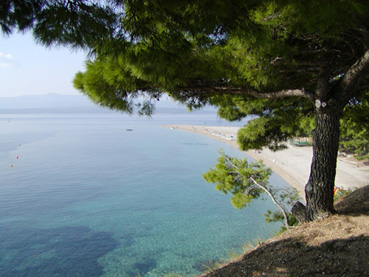 On the way to the Golden Cape the view on Cape's eastern beach site (Photo Jutta Menke)
The settlement of Bol spreads along a fertile declivity in that several fresh-water springs bubble out from the mountain range at a rear. There are numerous beaches that stretch for some 15km from MARTINICA Bay at east to BLACA Bay at west of Bol. The most famous of all is ZLATNI RAT (Golden Cape) that beach consists mainly of almost spherical small gravels. The Cape's tip moves to and fro about 50cm following wind and tidal movements twice a day. The Golden Cape is probably the most beautiful beach in the Adriatic.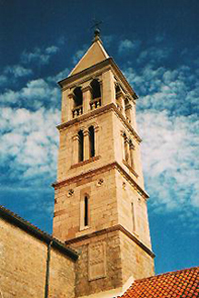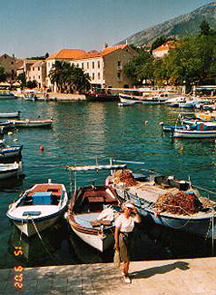 Left Tower of Church of Our Lady of Mercy     Right inner harbour "Hotel Kastil" in background
Saracens destroyed the first settlement of Bol in year 827. Archaeologists found many tombstones, stone relief and reservoirs from Roman times. There are few early Christian sarcophaguses and ornamental carvings from Old Croatian period too. One discovered remnants of an antique building complex near the small Church of St. John that date back to the Old Croatian era in 11th Ctr. The Bishop's Palace is here in Bol since 12th Ctr.and the Dominican Monastery has been constructed in 15th Ctr. The Church of Our Lady of Mercy took long to be build as from 15th to 17th Ctr. The Tower to that Church was completed by 1751. The Museum of the Monastery preserves an important collection of incunabula and other old books, ancient weaponry, old watches and clocks, astronomical instruments, a large numismatic compilation and some more ethnographic objects. In Bol one can view a fortified gothic Summer Residence from early 16th Ctr. Also a Mansion constructed in Renaissance and Baroque style by end of 18th Ctr. The Church of Our Lady of Mt. Carmel (in late Renaissance style) has been build about the same time.
Several daily excursions start from Bol to Split, Dubrovnik, Makarska, Jelsa and Vrbovska on Island Hvar and onto Island Mljet. When visiting to the sandy bay of Blaca one should take time to view the best preserved complex of the former Glagolic architectural and the monumental heritage on Brac Island. DRAKONJINA SPILJA (Dragon's Cave) is located west of Bol above the small village of Murvica and stores a number of dragon's stone relief and other cultic figures.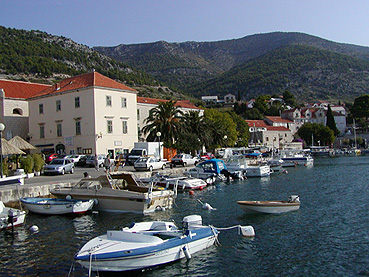 View at the inner harbour and the centre of community Bol (Photo Jutta Menke)

* * * * *
The third visit in 2002
We planned a visit to Bol for September 2002 to meet good friends there and to visit my sister on Hvar Island. We have had the chance to fly from Salzburg straight to the new airport on Brac and the flight took a little less than two hours. It was pitch dark when the charter aircraft put down smoothly on a landing strip of Brac airport built on its Highlands at +580 ASL almost at its centre too. The bus had to drive rather slowly down a steep tarmac road with too many serpentines until it reached the coastline. Bol has a fast connection by a hovercraft ship from Split during the main season twice daily linking to Hvar and Vis islands too. There is also a ferryboat link from Split to Supetar for those who prefer travelling in own vehicles. A tarmac road from Supetar leads to all major places on the Island. It has to cross the mountain range via Nerežišca and Praznica to reach Bol on opposite island's side.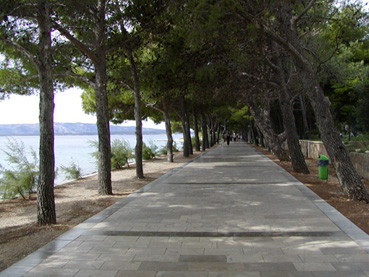 The nice walkway from Bol's centre to the Golden Cape alias Zlatni Rat (Photo Jutta Menke)
The community of Bol expanded westward from its old centre in the wake of touristic development in recent years fast. Several hotels located close to the Golden Cape had been erected since. Now many more visitors find good accommodation there including a number of private lodgings in recently built private houses. The hotels have maximum three stories and are well hidden within Aleppo pine-tree wooded areas. Let me mention a few like "Bretanide", "Bonaca", "Borak" and "Elaphusa" in the later we stayed during my third visit here. The new pathway from Bol centre to Golden Cape is wide enough even for a one-way road. It is nicely constructed of local marble flagstones and set out along the Aleppo pine-tree alley of a length about 1,5km. It provides a pleasant shade even during hottest summer days.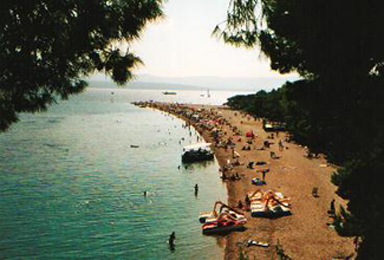 View at the eastern beach of the Golden Cape alias Zlatni Rat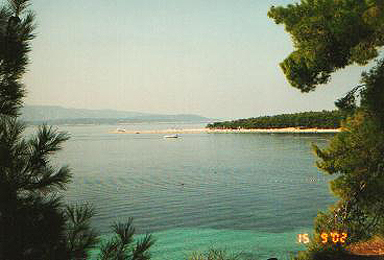 View towards the Golden Cape and Island of Hvar in background
Our 7-day stay was by too short to undertake any excursion on Brac itself. We wouldn't be able to walk up to Vidova Gora peak to enjoy the splendid view there anymore. There is an easier chance of doing this trip in a 4-wheel drive vehicle now. The old monastery of Blace suffered a lot during the past war and is a ruin only. We walked over to the Dominican monastery but they don't have a school for students anymore. There are several good restaurants at the centre and a small vehicular train tours to and fro to the Golden Cape almost every hour. As for the restaurant I would recommend the one of "Hotel Kastil" and the other one opposite to the monastery (next to "Hotel Bijela Kuca" that is out of commission for a while).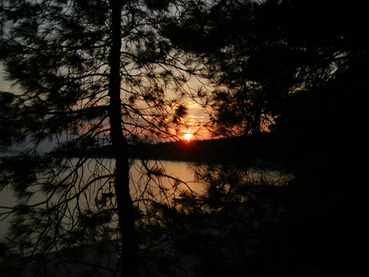 Sunset over the Golden Cape (Photo Jutta Menke)
After visiting the same place within a time range of almost 70 years have awakened in me many reminiscences on memories and feelings of bygone times. Considering the experiences of my own childhood and the ones of weathered manhood have made me - a grey & thin haired elder - rather sensitive to the long passed by times.
Literature:
JADRAN – Vodic i Atlas of RADE KONCAR Zagreb published by Leksikografski Zavod, Zagreb 1965 et Al.