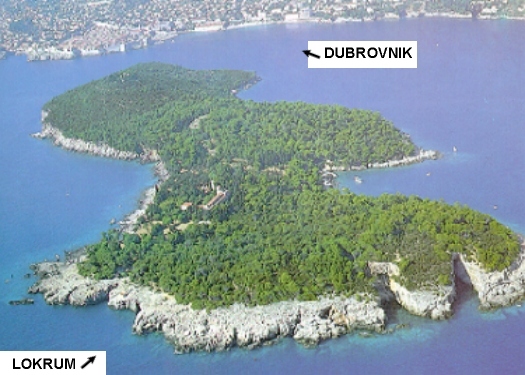 The first mention of Lokrum in writing came in 1023, in connection with the founding of the Benedictine abbey and monastery. According to legend, the Richard the Lion-Heart was cast ashore here after being shipwrecked in 1192 while returning from the Crusades. The vow he made to build a church on the spot where he came ashore should he be saved was kept at least in part. Although he came ashore in Lokrum, at the request of the people of Dubrovnik, he agreed to have the church built in the City itself.
In 1839 Maximilian Ferdinand of Habsburg, the then owner of the island, came to Lokrum and had a mansion built in the shape of a tower. The mansion has been surrounded by a marvelous garden with a lay out of crisscrossing pathways.
The very name of the island of Lokrum shows that even in ancient times there were plants from the far corners of the world growing here. Its name comes from the Latin name of a sour fruit 'acrumen'. The tradition of bringing in exotic plants and gardening that existed from the time of the Benedictines to that of Maximilian Ferdinand. This tradition was continued in 1959 by forming the foundation of LOKRUM's BOTANIC GARDENS.
The collection of eucalyptuses, cactuses and succulents is of particular interest for the visitors. In 1964 the Island of Lokrum was declared a MANAGED NATURE RESERVE and as from 1976 for a SPECIAL FOREST VEGETATION RESERVE.
There is a little lake called the Mrtvo More (= Dead Sea) on the island and which is linked to the open sea. It is suitable for bathing of children and for all non-swimmers. On the Lokrum hills there is a fortress called Forte Royal which is built in the shape of a star by the French in 1806. In provides marvelous views westwards of Dubrovnik and eastwards of Cavtat and smaller islands nearby.
At last please read what Luko Paljetak has to say about Lokrum:
"Only the imagination of a skilled writer could have placed an island like Lokrum off a city like this one. When you set foot on Lokrum, you encroach upon a mystery. You can hear the white murmur of the whispers of all lovers who have gazed at the stars from this very spot. Hear the rustling of silks and the beating of wings, the sound of poems and the muttering of Latin prayers, as if you were hearing them now in the cloister of the Benedictine monastery. Lokrum is under a spell, a spell that you cannot hope to undo."
---
DISCLAIMER : On URL: http://www.cosy.sbg.ac.at/~zzspri/ published pages are originals and authorized by copyright of Zvonko Z. Springer, Salzburg 1999.