VEMP & BBC NEWS OF 20th JULY 1944
| | |
| --- | --- |
| The eldest and still functioning radio of the Radio Museum in the Groedig Community Center (Salzburg County). | Radio with a crystal still working. The author has built a similar Home-radio for personal use in 1939. |
The VOLKSEMPFAENGER (translation: Folks' receiver) ­ let call it "VEMP" - was a radio in a brown colored shell of bakelite. It was a kind of a hard plastic produced by German IG Farbenindustrie during WWII. Years later, most of electric appliances' had their shells made of this dark brown material which you get in many different colors nowadays.

Allied Forces landed on Normandy's Beaches on the "DD" 6th June 1944. We were due for our only home leave waiting in the barracks at Neusiedler See on that same day. Several days later I arrived at my hometown Osijek just before my 19th birthday. The town was badly hit hard by one of the most bad bombing by USAF two days prior to my arrival. This wasn't to be a too happy leave after at all. My father, a well-known lawyer there, somehow has managed to purchase a radio which I would carry back to the Military training camp in Stockerau near Vienna.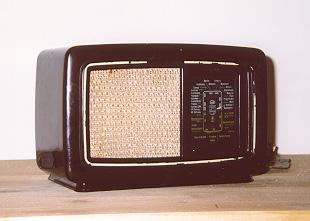 Front side of the "Volksempfaenger" alias VEMP made by HORNYPHON referred to in the story and which the author owned since 1944.


Any radio and so the VEMP too must have had a seal on its rear removal cover (hard cartoon) attesting that the Short Wave Length (SWL) had been incapacitated. One could bridge over this gap with short wire using a small splice carefully bringing in a piece of wire through vent-holes of rear cover. I've used a longer pair of nail scissors instead placing a prepared wire overcoming VEMP's incapacitation.

During WWII one wasn't allowed listening SWL at all. Anybody who was discovered or disclosed of hearing SWL transmissions like BBC or Swiss Radio Beromuenster had to expect severe punishment or even deportation (close to a death penalty). Such was the case with listening to radio news in all German controlled or occupied territories. My father had a large box of a TELEFUNKEN radio incapacitated in the same way and a bridge-over splice kept in its proper place almost through all times of WW2. He had to tune it down on the BBC's signal-call of "BOOM-BOOM-BOOM-BOOOOOM" each time when wanting to hear it though. It was always a dangerous listening at all times.

We had to return from our leave to our barracks in Stockerau near Vienna a fortnight later. I had carried on me a large sack, a suitcase and a knapsack returning from home to ongoing training. The sack was full of various food provisions some of were for our relatives in Vienna. Mother placed VEMP somewhere at sack's middle well protected by softer provisions. At sack's top was the melted butter packaged in few parcels. [Melted butter could be preserved for a longer period.] On our travel back we had to pass through Slavonski Brod railway station and from there onwards to Zagreb and Vienna. The train had stopped short of Brod's station compound because the station was hit by an air-raid previous night. Air smelt heavy, few fires were still on, soil blackened by fire, debris and lot of ashes everywhere. We have passed several burned out railcars and tangled rails near bomb craters in between. It was a rather bad sight and experience walking over to the other station's side where another train waited for onward travelling passengers.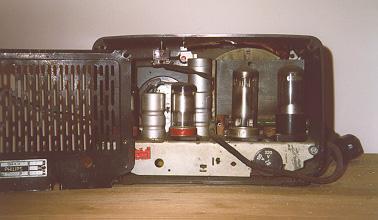 Opened rears side of the VEMP with exposed interior including few radio bulbs.

We were twelve in a group from Osijek and had many parcels to carry along about a mile long track on foot. One carried 1 or 2 parcels at once stopping along at a reasonably long stretch and then returned for those ones left behind. One had managed the whole track in say 3-4 stops on that very hot noon of June 1944. Oh, it was so very hot, air smelling of burned flesh which choked breathing, everyone perspired profusely mouths went bone dry. Get me just a sip of water for a Kingdom (which one?) - I murmured to myself. Each time I lifted my sack it felt more and more soft. Did the butter at top started melting? Would it leak to VEMP and flood it? No, it didn't happen due to my mother's precautions and wrapping skills making parcels tight enough.

Some weeks later in Stockerau we were attending a lecture on military strategies. A German senior officer held it in a large room with few maps on a wall. His face was badly crippled but eyes looked at us sternly and with some sorrow. He had been explaining Allies' strategies on Normandy's peninsula regarding options they had cutting it from rest of France. Suddenly, one comrade said aloud: "It had happened already!" Dead silence followed for few seconds when the officer asked: "HOW DO YOU KNOW THIS? - OKW DID NOT REVEALED THIS!" ["OKW" means Oberkommando der Wehrmacht translated as "Supreme Army Command" - */ For more details see foot note!]

Nobody dared explaining which wasn't necessary at all - we sat there like dogs getting wetted. Later, back in our rooms VEMP's wire-bridge has been carefully removed instantly and stowed away. Fortunately there wasn't any inspection afterwards. OKW admitted German Army's defeat in Normady the same day. Soon after followed dramatic events by the unsuccessful attempt of killing Hitler and our stupidity was forgotten (or not - who could know it then?).

The end to my VEMP came several years later. I left VEMP with our relatives in Zagreb on return from Stockerau some time in October 1944. Two weeks before Christmas I became a lieutenant-junior of Croatian Army and had to join a howitzers' Battery in Osijek soon after. I was back home as a combat artillerist with bad prospects for future. The Croatian Army and the Battery started retreat west from Osijek on 13th April 1945. On early morning of 15th May I've lead the Battery's soldiers into capitulation to Tito's Yugoslav Army. After I've survived a Death March in the 2nd half of May and I came to a POW's camp in Kovin (Vojvodina) later. Most of POWs left that POW's camp after the General Amnesty and Pardon of 3rd Aug 1945 and I could return home on 15th Aug 1945 at last.

What happened to VEMP, you may ask? It served me well after for many years during my study at University of Zagreb. VEMP's speaker played me mostly classics like Bach, Beethoven et Al. Thus I could concentrate better on works as noise or rackets from outside were blanketed in my small room. Here ends the story of VEMP that definitely broke down sometime after we were married in 1951. Dear VEMP, you served me so well so I've written this story thanking you for your long services. Who knows where yours indestructible bakelite casing decays now?

---
For those interested here some important dates in summer 1944:

| | |
| --- | --- |
| D-Day | 6 June |
| Cherbourg capitulated | 29 June |
| Attempt to kill Hitler | 20 July |
| Avranches taken | 30 July |
| Contentin Peninsula cutoff & Pontaubault by Gen. Patton | 1 August |
| Angers seized | 11 August |
| Invasion of South France | 15 August |
| Bretagne Peninsula cutoff | 15 August |
| Saint Malo taken | 17 August |
| Paris liberated | 25 August |