CROATIAN ARMY'S WITHDRAWAL ROUTE WESTWARD in 1945
---
Autobiographic annotations prepared by Zvonko Springer (ZS), Anif (Salzburg), prior to writing the manuscript titled "RE-EDUCATION or Four Months in the Life of a Young Man" during 1984/5.
---
General Notes:

Item 1.: Author served as a Lieutenant-Junior in 1st Domobran Battery of the 1st Ustaski Zdrug stationed in Osijek (Croatia) since Christmas 1944. The 1st Battery had Czech-made four howitzers of 100-mm bore drawn by horse's teams. A heavy-armed infantry company had been attached to the 100 men strong artillery unit which had some 60 horses too.

Item 2.: Croatian place's names are written with characters without Apostrophes on so called hard consonants.

Item 3.: Since leaving Osijek on April 13, 1945 the 1st Battery was constantly moving westward and making a total marching distance of approx. 525 km

SYNOPSIS (english) / SYNOPSIS (deutsch)
CROATIAN ARMY'S WITHDRAWAL ROUTE WESTWARD in 1945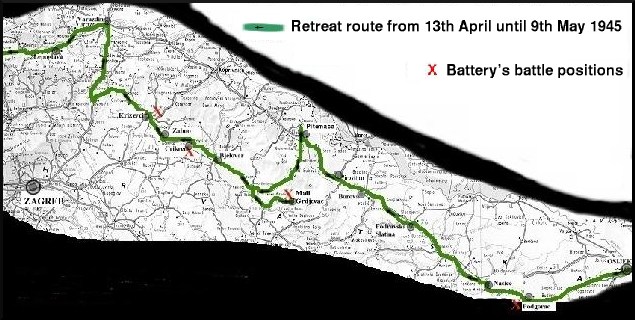 Retreat route westward of the 1st Domobran Battery leaving OSIJEK on 13th April and arriving to Krizevci on 6th May 1945. Battery left Krizevci on 8th May 1945 continuing its march via Lepoglava and Krapina to Slovenia.

13.04.1945 FRIDAY

Begin of the Croatian Army's withdrawal from Osijek. The 1st Domobran Battery moved out of its station from its battle station at a nursery on Cepinska road in outskirts of Osijek by late afternoon. The Battery's commander is Captain Matijevic where as Ustaski Colonel Stier is C.C.O. of 1st Ustaski Zdrug. Both officers were in command until the Battery's crew surrender few kilometers short of Dravograd (Slovenia) on 15.05.1945. During the night the Battery passed Cepin - Cepinski Martinci - Poganovci - Budinci and arrived after a travel distance of:40 km

14.04.1945 SATURDAY

Short of Podgorac two howitzers were engaged in a brief fire action near the crossroad from Djakovo. March continued on road to Nasice. At 11 a.m. aircraft's attack hit hard the Battery passing through Nasice causing considerable loss of equipment, supplies and several horses. Had to kill my badly injured riding horse "Zelenko". Dispersed Battery congregated slowly on road to Donja Moticina and getting re-organized at village Fericanci. Traveled distance of: 22 km

15.04.1945 SUNDAY

Battery went into a temporary fighting station near a school in Fericanci. Lieutenant-junior Zorko Kurjakovic (school's comrade) did not return to Battery after that air-attack in Nasice of yesterday. Moved approx. distance of: 2 km

16.04.1945 MONDAY

Early morning Battery moved out from Fericanci towards Cacinci. Moving on main road passed Mikleus - Nova Bukovica and went to a new battle station in Podravska Slatina. Travelled distance of: 36 km

17.04.1945 TUESDAY

Fortifying battle station in Podravska Slatina. Moved around: 2 km

18.04.1945 WEDNESDAY

Kept the same station in Podravska Slatina. Moved approx.: 1 km

19.04.1945 THURSDAY

Moved out of the station and left Podravska Slatina late morning. Travel on main road passing Sladojevci - Cabuna and turned off it short of Suhopolje to get settled in a near-by farm of "Borovo Polje". Battery went into a new battle position close to the road Pcelic - Suhopolje. Travel distance of: 22 km

20.04.1945 FRIDAY

Fortifying battle station. Repair of equipment, replenish store and provisions. Adjunct of horse teams and yoke pairs due to occurred losses. Movements approx.: 3 km

21.04.1945 SATURDAY

Stay at same battle station of "Borovo Polje". Moved about: 2 km

22.04.1945 SUNDAY

Continue repairs and re-organizing Battery's complement. No movement.

23.04.1945 MONDAY

Morning same as day before. Preparations started for next leg of withdrawal by late afternoon. Total movements about: 4 km

24.04.1945 TUESDAY

At late afternoon Battery returned to main road and continued its march in direction to Suhopolje. Passed through town Virovitica during night traveling a distance of: 13 km

25.04.1945 WEDNESDAY

Battery continued marching through Spisic Bukovica - Lozan - Stari Gradac - Pitomaca - Kladare to stop at Klostar for a stop. Day's movements about: 20 km

26.04.1945 THURSDAY

From Klostar Battery moved onwards on main road and erred at a crossroad during night. On a village's narrow road one had to turn all heavy horse-drawn vehicles and returned to Pitomaca. From there it continued on a narrow earth-beaten road towards village Sedlarica. Battery's made a toilsome and burdensome passage over Bilogora's Hills (288 m) on rain softened earthen road during whole morning. Horse-teams got help from local oxen teams. Battery arrived in Velika Pisanica late afternoon. Moved approx.: 33 km

27.04.1945 FRIDAY

Only Battery's battle parts proceeded via Drljanovac (on brook Cesma) and Veliki Grdjevac to take into a battle station in Mali Grdjevac. ZS was ordered to an observer's outpost close at the forest's edge overlooking brook Grdjevica valley and opposite of village Velika Barna on a hill ridge. ZS was left alone, as the Battery's only officer ordering and coordinating howitzer's fire. Travel distance to village of Mali Grdjevac was: 17 km

28.04.1945 SATURDAY

During that night from 27th to 28th enemy had been attacking from direction of Velika Barna many times. Enemy's aim was crossing brook Grdjevica and to advance on Grdjevica's villages. A total of 22 enemy's attacks had been repelled until dawn when attacks had stopped. Early morning the only phone link to guns' station got lost. Observer's post had to be evacuated and four of us had a runaway from outpost to reach retreating howitzers just on time. Guns joined Battery's convoy at Veliki Grdjevac from where all marched on via Drljanovac - Severin - Prespa arriving to town Bjelovar late at night. Movements amounted to: 26 km

29.04.1945 SUNDAY

Battery had a short respite at Bjelovar. Moved about: 3 km

30.05.1945 MONDAY

Late afternoon Battery had been ordered to move out of Bjelovar and marched during night through Predavac and Rovisce arriving at day

01.05.1945 TUESDAY

to town Zabno about mid afternoon. Battery stayed here over night waiting further instructions. Marched distance: 22 km

02.05.1945 WEDNESDAY

The Battery's battle unit left Zabno at mid morning and returned to a near-by village Crikvena. A new battle position had been arranged within village's compounds. Moved about: 6 km

03.05.1945 THURSDAY

Whole day spent at the battle position in Crikvena. No movement.

04.05.1945 FRIDAY

No changes of Battery's station - waited without firing a shot!

05.05.1945 SATURDAY

During night as for the past two days nothing happened. Not clear where is the front line. At lunchtime unaccounted enemies units approached Crikvena from east. Alarmed Battery's battle unit moved out of Crikvena at once, as there were not any defending infantry units around. An aircraft flew twice over Battery on its hurried way back to Crikvena but it did not attack. Battery's unit got safely back to Zabno. Now completed Battery's convoy proceeded instantly from Zabno via Bukovje towards town Krizevci marching whole night. Total movements approximately: 30 km

06.05.1945 SUNDAY

Later in the morning Battery arrived and occupied its new battle position on a hill northwest of Krizevci overlooking its railway station there. Other Battery's convoy parts found a respite at nearby farm North of road Krizevci - Orehovac. Howitzers did some periodical firing far beyond and over Krizevci. Moved: 5 km

07.05.1945 MONDAY

Whole day Battery in battle position above Krizevci. Continued with periodical firing activity. Observed destruction of railway tracks by a locomotive pulling a special plow approaching Krizevci railway station from direction of Zagreb. No movements.

08.05.1945 TUESDAY

Continuation of erratic fires activities. There isn't any traffic going towards Zagreb anymore. Late afternoon Battery pulled out of its battle station and was joined by service outfit moving westward on road out of Krizevci. During whole night continued retreat passing through Orehovac - Vukovec - Sudovec and crossing Kalnik Mountain. Night marching distance amounted to about: 23 km

09.05.1945 WEDNESDAY

Next morning arrived to Novi Marof (bridge over river Lonja) and continued through Presecno - Kneginec towards Varazdin. However convoy turned off that road reaching Varazdinski Brijeg and continued marching to Cresnjevo - Tuzno - Straznjevci. Later crossed on a rather narrow road-bypassing mountain Ivanscica (1061 m)and proceeded through Ivanec - Lepoglava - Golubovec to Risek. In an incident had to restore using force of arms at marauding soldiers from one of howitzers team. They abused an old woman and tried to pillage her vineyard's hut. At village Radoboja returned to main road arriving to Krapina town late afternoon. Several of rioting soldiers in that incident wanted to execute me as of "cooperating with partisans" but everything settled amicably after. Battery stopped for a badly needed repose at a field west of Krapina town. General retreat of Croatian armed units and civilians is in full swing. During that longest day's march covered about: 70 km

10.05.1945 THURSDAY

Later that morning Battery continued retreating masses marching westwards from Krapine to Djurmanec and Sv.Rok (river Sutla). Here we crossed into Slovenia and continued onwards via Rogatec and Rogaska Slatina reaching village Potplat sometime at night. Made very slow progress of some: 19 km

11.05.1945 FRIDAY

Inexorable retreat continued from Potplat on main road to Smarje p.J. - Sv.Vid - Sentjur - Store za Teharje. March continued at slow pace with erratic stops in that universal mass retreat. Day's march about: 41 km

12.05.1945 SATURDAY

At dawn approached Celje town that Battery's convoy transverses during morning. Without stopping in town marched slowly onwards on main road towards Petrovac and reached Velenje at night. Entered narrow valley of brook Paka moving relentlessly to Dolic. Heard about some severe clashes in front to open road westwards. In a strenuous day's march made about: 35 km

13.05.1945 SUNDAY

Passed Smartno (place of recent heavy fighting) and passed narrow gorge of Mislinja brook reaching town Slovenjgradec later at morning. Battery's convoy stopped short of Pamece where howitzers took to their last battle station on a field. Ordered to fire indiscreetly towards North over a hill into Drava River valley. Fire's impacts couldn't be observed. Traffic on road subsidized considerably. Moved around: 15 km

14.05.1945 MONDAY

After midday Battery was ordered to return onto road, passed through Pamece to next village Bucovska Vas. Battery's convoy stopped some 3 kilometers short of Dravograd town and congregated at forest's edge south of a crossroad. Commander Captain Matijevic and Senior-Lieutenant Matijevic left for good the Battery later that afternoon. As the only officer I was left with the Battery's crew. Later at night gathered Battery's servicemen who agreed to follow me returning to Slovenjgradec. As ordered horses were roped to trees. Howitzers and their ammunition disabled. I had started walking back to Slovenjgradec at midnight. Last leg of Battery's retreat was about: 11 km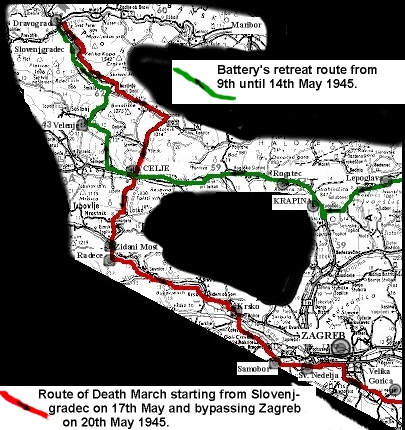 Since leaving Osijek on April 13, 1945 the BATTERY was constantly moving westward and marched a total distance of approx. 525 km.
---
CROATIAN TRAGEDY OF BLEIBURG & DEATH MARCHES in 1945

15.05.1945 TUESDAY

During darkness of the night lead Battery's servicemen back on road towards Slovenjgradec. Some time after the midnight have surrendered to an unknown unit of the Yugoslav Army (JA). I was ordered to stop, disarm and turn of road onto a meadow to rest later. At dawn realized that this meadow was same place of Battery's last station yesterday and not far from Slovenjradec. Walked through Pamece village to that meadow about 4 km.

Lost contact with anybody from Battery since my surrender for good. Changed into civilian cloth and wear but kept my ridding boots on cutting off all seams. At morning started forced "exchange"(brutal pillage and stripping of) by marauding soldiers of unknown JA's unit. Many personal items were taken away as well as all military items and my spare pair of boots. Some hours later all Prisoners of War (POW) gathered on that field had moved into a fenced orchard situated on a hill south of Slovenjgradec town. Walked to that first POW's camp about 5 km.

16.05.1945 WEDNESDAY

At orchard's POWs rally ground found those from Osijek Military district (M.D.) including several senior officers. During afternoon Camp's command ordered separation of all POWs who were in Ustasa's units. Also all POWs' aged 16-17 years had to report at Camp's Command. One estimated that POWs' number at this rally place amounted to some 40.000 persons. Did not get any food or water since enslaved. Moved around camp some 2 km.

17.05.1945 THURSDAY

At early morning first POWs moved out of camp probably who were Ustasa's servicemen and leading marching column at front. POWs from Osijek M.D. left camp at mid afternoon. Young guardsmen aged 16-18 years accompanied marching column and were positioned at column sides some 10 meters apart. Soon after leaving rally camp noticed ill treatment of all fatigued, weaker or elder ones. POWs were tortured and indiscriminately murdered whenever leaving marching column for any moment. March started from Slovenjgradec proceeding Smartno - Straze (through Mislinja's gorge at night)- Dolic - Vitanje - Strmec. Constant rifle shots devastated POW's marching column. Walked through night some 40 km.

18.05.1945 FRIDAY

At dawn POWs from Osijek M.D. turned out to be at front of marching column when reaching main road Celje - Maribor. Noticed that yesterday's column leading part (Ustasa's POWs) had turned of towards Maribor most probably since Strmec. Marched onwards to Vojnik - Skofja Vas and reached Celje early afternoon. A soldier forced me took away my boots on bridge of Drava River near Celje. From here onwards had to march BAREFOOTED. Short repose near Celje's center accounting for missing and dying ones. Late afternoon marched off and passed through Lasko and Rimske Toplice at night. March continued with short stops only passing Smarjeta and arriving in Zidani Most by midnight. During longer stop here slept on sleepers below Zidani Most railway station through night. Marched that day about 50 km of which my first barefooted 45 km.

19.05.1945 SATURDAY

At sunrise POWs' column moved out of Zidani Most onto road leading to Radece Toplice and Hotemez. Near Vrhovo without any notice accompanying watchmen disappeared after which marching column broke down. POWs from Osijek M.D. gathered at nearby river Sava's Right Bank to repose and quench thirst. Around midday guardsmen arrived and lead POWs without any stopover through places Vrhovo - Bastanj - Krsko - Leskovac (saw illuminated church Blanka) - Catez - Mokrice - Bregana arriving at Samobor at dawn. At passed night was few time subconscious and deranged and lost mind for a while but companions cared and saved me to next short stop. Day's march until next day's dawn amounted to some barefooted 68 km.

20.05.1945 SUNDAY

POWs' gather to their respective Military Districts at park of Samobor. One estimated an accumulation of some 10.000 captives. Forced pillages continued between POWs by marauding JA's soldiers. Received first food: a handful of maize flour-grit. Ate it raw. Moved around looking for some wrappings for my bare feet: 3 km.

21.05.1945 MONDAY

POWs' column left Samobor on road to Sv.Nedjelja during morning. At Sv.Nedjelja four-rowed column was squeezed between carts with soldiers to at best two-tired POW's pairs. POWs had run their "Race for life" between whips, stacks and rifle-buts thrashing at them from soldiers on carts. Reaching hilltop those who survived gathered in front of church at Sv.Nedjelja. Continued slowly marching and passed through Kerestinec - Stupnik towards south tollgate of Zagreb. Here happened one of worst beating and torture, scenes of horror and killings. Early afternoon column turned hesitantly onto road leading to Remetinec. Slowly column ploughed through Velika Mlaka - Velika Gorica - Turopolje reached Vukovina on nightfall. Nearby to village Busevac marching column disintegrated because sentinels left unexpectedly. Spent night near a brook. Since morning marched with irregular pace: 45 km.

22.05.1945 TUESDAY

POWs from Osijek M.D. found together again during night. Early morning new sentries arrived and accompanied column moving on road through Busevac - Lekenik - Duzica - Zazina. After crossing River Odra reached Sisak town early afternoon. POW's column had to "race for lives" pushed to one house's front pathway squeezed to two-tired pairs. Pairs had to skip over wires stretched across a pathway where civilians (?) kept striking and beating POWs who stumbled, staggered and fell to ground. Later were kicked and mutilated to death. Got kicked in loins and lost conscious but comrades got me somehow out of this horror. Decimated POW's column spent night at Sisak's old brickyard on bank of Sava River. Many comrades from Osijek M.D. did not make it up to here. Marched under great strain some: 45 km.

23.05.1945 WEDNESDAY

Several hundreds prisoners gathered at this old brickyard during night. There was no food for POWs but one could find water from nearby flowing river. Robberies by rummaging JA's soldiers got on despite POW's belongings were rather scarce now. Attempted healing wounds and barefooted captives look for some bandages. A day of anxiety and little rest but too many worries. Moved around compound estimated 2 km.

24.05.1945 THURSDAY

Early afternoon grouped up POWs marched in four-rank column out of Sisak and crossed Sava River by Galdovo. POW's marched inexorably forward through Struzec - Potok (over Lonja River) - Popovaca - Veliko Brdo - Repusnica and passed through Kutina during night. On route had short stops only during: 45 km.

25.05.1945 FRIDAY

Forced march continued through places Banova Jaruga - Medjuric - Poljana - Gaj and toward road Badljevinu - Podgorski Doljani. Short lasting downpours and continuous rain slowed down column's progress on steep wet road considerably. Had very short stops only but without any proper rest, food and drink. Arrived at Daruvar town early afternoon. POW's were piled up on a field bellow city's center. A rainy day full of horrors and torments. This was the longest day's march of some 100 kilometers in 24 hours. Since last night made almost: 55 km.

26.05.1945 SATURDAY

On morning Daruvar's women (AFZ) got through guardsmen and brought to starving POWs tins with soup and basketful of large loafs of bread. Rain continued for whole day turning field's soil into a quagmire. About a dozen officers from Osijek M.D. made that march up to here only. Moving around field to dry place: 3 km.

27.05.1945 SUNDAY

Women from Daruvar were allowed bringing food to POWs once daily only. All POW's officers were sorted aside from other captives. At afternoon officers from Osijek M.D. ordered to bath in Daruvar spa. What a delight - got dressed in wet and ragged clothes after! Later brought to another place. Since then officers were separated from other POWs for good. Spent night under roof of a cabin close to camp command's post. Day's movements: 5 km.

28.05.1945 MONDAY

Stayed whole day at that shabby shelter. Got some poor food from command's canteen. Complete isolation from any other group of POW's prisoner incl. Officers. Unendurable waiting and trying to cure wounds. Short walks still barefooted: 2 km.

29.05.1945 TUESDAY

Food we got was canteen's fallout. Daruvar's women were not allowed to visit isolated officer's groups. At midday an officer of JA's political commissioner - visited officers of Osijek M.D. and explained us the necessity of RE-EDUCATION (= PREODGAJANJE) of all late enemy's officers to become worthy serving in JA's units after. Nobody knew what that would be or how to understand that Politcom's narrative. In full isolation moved some: 3 km.

30.05.1945 WEDNESDAY

Our group of a dozen officers from Osijek M.D, left Daruvar's camp early afternoon and marched on passing through Donji Daruvar - Koncanica - Zdenci Veliki - Grubisno Polje (at about midnight) to Loncarica. Got some wrappings for my sore and wounded soles from an unknown woman somewhere along route. Walked through until next morning about: 55 km.

31.05. 1945 THURSDAY

Arrived to Virovitica Railway Station around mid morning. A school girlfriend - now a JA's Politcom officer - recognized me somehow. She brought me some food and wrappings with which managed to protect sore soles for a while. After a longer respite a new sentry shift of few elderly soldiers arrived for our small group. After midday left Virovitica marching on main road to Suho Polje - Podravska Slatina - Novi Senkovac - Cadjavica (arrived at night). These guardsmen were partisans since 1942 and behaved reasonably and more humanly to us than any before. Stops were more often getting food from villagers when passed-by. Marched some: 45 km.

01.06.1945 FRIDAY

Dozen officers from Osijek M.D. marched on through night passing places Moslavina and Viljevo and arrived at Donji Miholjac early afternoon. Honoring guardsmen delivered POWs to a camp situated in castle's park. Again marauding JA's soldiers took away anything they wanted. POWs subjected to constant harassment and molesting by unconstrained JA's servicemen. Since night walked some: 30 km.

02.06.1945 SATURDAY

Early morning moved out of POW's camp at Donji Miholjac. March continued on road via Sv.Djuradj - Crkovci - Valpovo (Karasica River) - Josipovac to Retfala (a suburb of Osijek) and came to my domicile town Osijek early afternoon. My soles were open wounds and walked on under greatest pains passing by Matches' factory and later through Railway Station destroyed rail's bedding. Walking between tracks' strewn gravel had to watch every footstep starting at West entry and coming out at Eastern one stumbling never ending station's 4 kilometers. Finally POW's group settled down on a football field close to silk-factory in suburb of New City. Some time passed when mother and sister got there after receiving a notice about my presence in a POW's column. With greatest effort and crawling went to meet them at field's corner. Walked that day about 55 km.

03.06.1945 SUNDAY

Got father's sandals on time before moving out from that football field. Walked with great difficulty along Vukovarska cesta to Zeleno Polje (= Green fields) at Lower City, suburb of Osijek. Came to POWs' camp situated in transportation compound next to Drava River's right embank. Wearying walk of: 7 km.

04.06.1945 MONDAY

POW's names called out to report at camp's command post where interrogations started from which some captives did not return to their shakedowns anymore. Relatives and friends were allowed to visits bringing food, cloths and medicines. My soles were wounds only, lips cracked with wobbly teeth in jaws. Affected by sever malnutrition and dehydration due to a total physical and mental agony. Hardly could move around compound say: 1 km.

05.06.1945 TUESDAY

Called to report at command post for interrogation. Later returned to my place at campsite. Told by camp's commander that I would be going for "RE-EDUCATION". Where and when - nobody knew it or would tell me? Frustrated waiting continued. Moved around camp: 2 km.

Since surrender on May 15 marched in various POW's columns some 555 kilometers since May 17 until June 2 arriving back home to Osijek. As an officer taken POW had walked barefooted from in 15 days some 495 kilometers of the total 16 days march.

06.06.1945 WEDNESDAY

By mid afternoon left camp at Zeleno Polje in a long POW's column and walked to Osijek Railway Station Donji Grad. There boarded a freight train that left station late afternoon. Traveled whole night and passed through Vinkovci Railway Station.

07.06.1945 THURSDAY

During morning train entered State prison at Sremska Mitrovica. POWs disembarked and settled down in prison's yards temporarily. Reported for medical check-up due to open wounds on soles. Ordered to a confinement cell at a barrack ground floor but door remained open at all times. Strange to free in a prison!

From 08.06.1945 FRIDAY until 11.06.1945 MONDAY

received a loaf of bread and bowl of some soup once daily. Stayed at my cell all these days spending relaxing hours outside. Luxuriated in sun and downright air. Most captives left that prison sometime nights on 8 and 9 June marching of with unknown target. Took rest most of time trying to heal wounds. By Monday evening there were few POWs left behind in prison's yards.

12.06.1945 TUESDAY

My 20th birthday! After morning roll call returned to cell. Soon after called out to report at prison commander's office. There found father waiting for me and was told to return to Osijek and report to OZNA 3 (JA's Department of military security). Got a letter of dismissal and left prison accompanied by a guardsman and father late that morning. Afternoon boarded train traveling to Vinkovci and had change to another one travelling to Osijek next morning.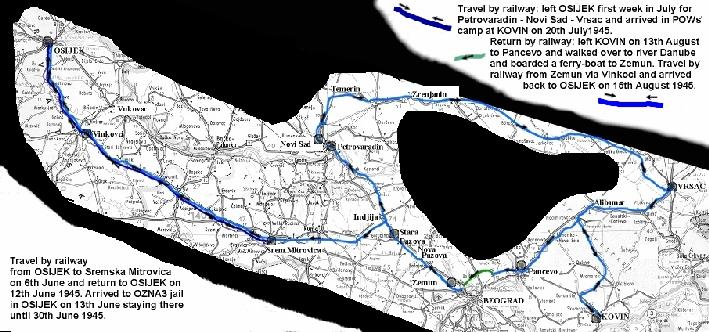 13.06.1945 WEDNESDAY

Arrived at Osijek Railway Station mid at morning. Guardsman accepted that we could divert to my home. There I had a thorough body bath but could shave due to my too long beard and entangled mane of grown hair. A balance showed my weight of 46 kg that was half of my body weight a month ago. After a light breakfast went accompanied by guardsman to OZNA 3's prison. At noon arrived at OZNA's prison which was located at old Franciscans' cloister in Osijek's Citadel (= Tvrdja) near Water Portal (= Vodena Vrata). Must enter to a confinement cell at a wet casement deep below road level. Stayed in this cell without any light alone on scarce food for two days. Easy walk through home city's streets: 4 km.

15.06.1945 FRIDAY

Called out for a roll call and ordered to go for interrogation to room of a OZNA's Politcom code named "JELEN" (= "deer" - who later became professor at Faculty of Economical Studies in Zagreb). Interrogations lasted several hours being accused to be a "War criminal" and member of Ustasa's Youth organization. At last was asked to write my autobiography and allowed using typing machine. [This document became part of my "characteristic" political documentation later.] Got a large piece of bread and some soup during hours of typing at last.
I had realized that I've got through this ordeal saving my life at the end. Could move to larger room at ground floor level in which there were a dozen other inmates. Followed more peaceful days in OZNA 3 prison where I got food regularly and could walk in inner yard sometimes. Occasionally was allowed to leave prison with a guardsman. I went out through "Water Portal" to meet mother or sister nearby Drava River's bank. Out there I would get supplementary food, cloths and medicines and always there was something for the guardsman too. I had been waiting for "re-education" but nobody could tell me knew where or when would go though.

06.07.1945 FRIDAY

Unexpectedly on a Friday again had to leave OZNA's prison with an order going to be re-educated. Accompanied by a sentry boarded a train leaving Osijek for Vinkovci and changed there to another one travelling to Stara Pazova. We got out there and slept at station waiting for a train to continue voyage next morning. That train took us via Cortanovci arriving to Petrovaradin town late afternoon at last. My sentry happily delivered a "dangerous War criminal" to another one at Military Prisons in Petrovaradin. Later Prison's commander arrived and told me to choose any free cell keeping its door open all time. He did not understand why should be here as an officer. I was not supposed going out to work. Other prison's inmates were working at docks down on Danube River harbor where they were loading tugboats with UNRRA vehicles, locomotives and wagons machines and other heavy goods in crates - all bound for Russia. For next few days I had proper food, slept well on a bed. Often had walked accompanied by prison's commander himself around Petrovaradin town and its fortress.

12.07.1945 THURSDAY

Left prison and continued travel on ferry crossing Danube River. A sentry brought me to a command post of a very large POW's compound located at an old silkworm plant at outskirts of town Novi Sad. There met several POWs from Osijek who worked as German speaking clerks and interpreters for POW's Camp command. This compound was exclusively for German Military POWs. I noticed that POWs' living conditions were the most horrible and unutterable ever imaginable. Stayed several days with clerks as my host but did not have to work at all.

18.07.1945 WEDNESDAY

At noon left POW's camp in a company of seven high ranking German Officers escorted by several heavy-armed guardsmen. Boarded train at Novi Sad Railway Station and traveled eastwards via Cenej - Titel - Alibunar - Tamis. Late afternoon arrived at Vrsac where our escort delivered German Officers to a special POW's camp for them first. Two sentries took me another camp afterwards. However, camp's clerks did not want taking on a Croatian Officer with dismissal papers from the OZNA 3. There was not any place for me to stay in Vrsac. In company of two guardsmen spent night at Vrsac Railway Station.

19.07.1945 THURSDAY

Took morning train to Kovin where my companions expected finding a camp where I would start with "re-education". Walked from Kovin station southwards out of village's boundary where we got to a fenced compound of a late silkworm plantation turned into POWs' camp recently. There I found several fellow prisoners from Zeleno Polje POWs' camp in Osijek and very few fellow marchers with whom walked from Slovenjgradec to Osijek. [One of the very few was late Dr. Franjo Paser from Osijek.]
About two weeks later learned about "General Amnesty and Pardon" published in AVNOJ's decree of August 3, 1945. Several days later camp's command started issuing "Letter of dismissal" to some 3.000 Croatian Officers who were staying in POWs' CAMP XX-B at Kovin. I got my "Letter of dismissal" No. 141-161 dated 8 August 1945 few days later which was on 12 August.

13.08.1945 MONDAY

Left Kovin POW's camp late night boarding train at Kovin Railway Station that left after midnight. Traveled via Bavaniste and Banatsko Novo Selo and arrived at Pancevo Railway Station before noon. Left behind fellow travelers which ones wanted to proceed to Beograd first by deciding to go my own way to reach Zemun town on other side of Danube River.

14.08.1945 TUESDAY

Forced my way walking through Jabucni Rit to reach Krnjaca where took a ferryboat crossing Danube River to Zemun. Boarded train at Zemun Railway Station that left towards Stara Pazova - Indjija - Ruma - Sid at late afternoon. Train arrived to Vinkovci Station late at night. Next morning took an early train to Osijek.

15.08.1945 WEDNESDAY

Arrived at Osijek Railway Station later during morning where mother was waiting for my arrival on every of past few days. I have been back to my domicile town OSIJEK. I had left it on that ominous evening 13 April 1945 retreating westwards with Croatian Army - only four months ago.
---
Notes:

1. This document is about author's Death March route and following stays in OZNA 3's prison and in POWs' camps. It was used to write the autobiographic report and remembrances of passed days starting on 13 April and ending on 15 August of 1945.

2. The manuscript is in English and had the working title of:

R E - E D U C A T I O N
Or
Four Months in the Life of a Young Man

The text writing was started by mid 1984 and it had been completed by end of 1985. The improvement of wording and spelling including re-typing was finished in 1986. The typed original had 255 pages of DIN A4 format.
Text's last re-edition after scanning and word-processing had been completed in 1996. Print-ready text amounts to approx. 0.7MB.

Anif, in March 1999.

Dipl.-Ing. Zvonko Springer
---
Memories of a Croatian Soldier - Zvonko's Story

---
DISCLAIMER : On URL: http://www.cosy.sbg.ac.at/~zzspri/ published pages are originals and authorized by copyright of Zvonko Z. Springer, Salzburg 1999.